Country Hills Dentistry uses digital x-rays to get an in-depth look into patients' mouths.
Request an Appointment
What are digital x-rays?
Digital x-rays use techniques to store the image of the x-ray in digital format. Digital x-rays are much faster than traditional x-rays. Additionally, all digital x-rays are stored in our computer system and for easy reference by our team at any point during your care. Digital x-rays help us to provide care, earlier detection of any problems, precise monitoring and treatment.
How safe are digital x-rays?
Dental x-rays are very safe by any known standard. While all x-rays will produce a small amount of radiation, digital dental x-rays will produce a low level of radiation. Rest assured that our team will put your safety first, taking every precaution to ensure that you are exposed to the least amount of radiation possible. We will always take every necessary precaution to ensure your safety, including the use of a lead apron and taking x-rays only when they are necessary.
Why are dental x-rays necessary?
Dental professionals rely on x-rays to view things in your mouth that they cannot see during a visual examination. X-rays give dentists the ability to detect problems such as tooth decay, damage to the bones which support the teeth, and dental injuries, like broken tooth roots, earlier than they would be able to with a visual examination.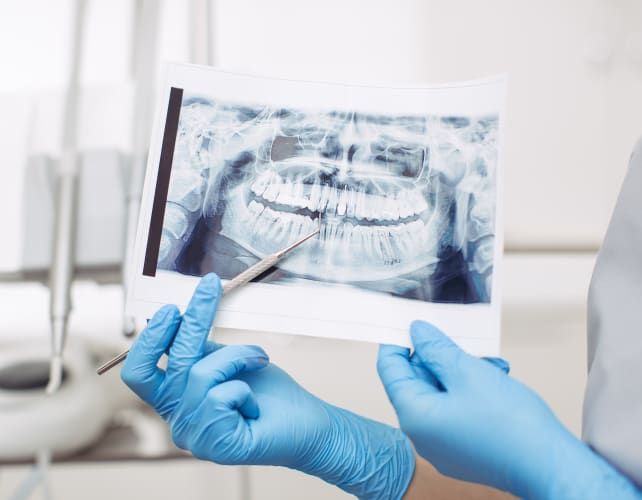 Why are x-rays necessary?
An x-ray is an important diagnostic tool for our dental team. By using digital x-rays, our staff can detect and assess various dental issues which would not be visible on direct examination, including early tooth decay, bone loss, problems below your gum line, cysts, abscesses, tumours, or impacted teeth.
How frequently will I need a digital x-ray?
If an x-ray is recommended, our dental team will tell you during your appointment. If an x-ray is necessary, it can be taken during the same appointment and the images will be available for our team to examine immediately, resulting in less waiting.