At Country Hills Dentistry, our dentists provide patients with a range of cosmetic dental services in Kitchener.
Request Appointment
Cosmetic Dental Care in Kitchener
At Country Hills Dentistry, we believe that a beautiful smile is as magnetic as it is confidence-boosting.
Our dentists offer multiple cosmetic dental procedures to help alter the position, colour, size, shape, and alignment of teeth.
Our services include bonding, crowns, bridges, teeth whitening, veneers, full-mouth restorations, and more.
Cosmetic dental treatments can help to restore your teeth, your smile, and your confidence.
If you are considering enhancing your smile, book a consultation with one of our dentists. We can help you decide the best options for your needs and lifestyle.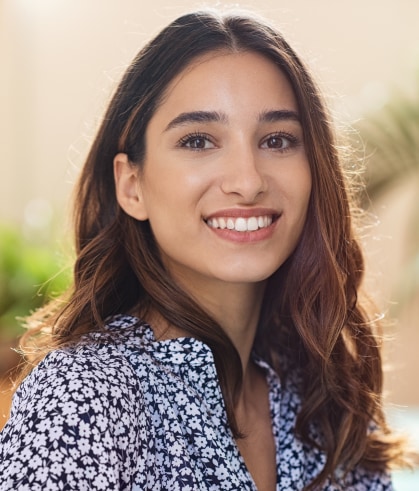 Goals of Cosmetic Dentistry
While cosmetic dentistry is not an actual field of dentistry, it refers in general terms to any dental procedures aimed at improving the aesthetic appearance of your mouth, teeth, and smile. The focus is generally on improving the colour, shape, size, position, alignment, and overall appearance of your smile.
Cosmetic Dental Options
At Country Hills Dentistry, our dental team provides cosmetic dental procedures to help create a brighter, more even smile.
There are several options available if you're unhappy with the appearance of your smile. Depending on your concern, there is often more than one method available to you. Speak with your dentist to discuss the best option for you.
Whiter Teeth
Your teeth may become less white over time, either due to aging, medications, food or lifestyle choices, or other reasons. If you're unhappy with the colour of your teeth, teeth whitening may be the right choice for you. At our dental office, we provide in-office and take-home teeth whitening options.
Another option, depending on your specific needs, might include dental veneers. These are tooth-coloured pieces of porcelain that are bonded to the front surface of your teeth, allowing for a brighter, more even smile.
Dental bonding may be another possibility for covering discoloured teeth.
Missing Teeth
Patients with one or more missing teeth may not feel comfortable with their smile and can suffer from some serious dental health issues such as shifting teeth, loss of facial structure, and difficulty with eating and speaking properly.
Our Kitchener dentists offer dental crowns and dental bridges to restore the look of your smile by replacing missing teeth. Crowns and bridges help to fill the gap between teeth, creating the appearance of a healthy, natural smile.
Decayed or Damaged Teeth
If you have damaged teeth, either from an accident or dental caries, a standard filling may not be enough to conceal the damage. Inlays and onlays are dental restorations that can address larger issues of decay or damage.
Multiple Concerns
For patients looking to address several different dental issues, our dentists can create a customized full-mouth restoration plan that should minimize your visits with us by combining treatments in the most efficient way.